We last published student testimonies three years ago. You can read them here https://www.keytostudy.com/student-testimonies/. 
To be honest, our new students are as satisfied as ever. I will share some of the responses.
DK (initials), VP of Data Engineering, June 2022
The classes were great and it was straightforward to implement Mrs. Goldentouch's advice and methods! My reading speed has doubled since my first class, so now my primary focus is maintaining comprehension for larger pieces of reading, such as longer articles or full chapters in books.
For the next steps, since I have access to your online KeysToStudy program, I want to go through the Memory Masterclass and get my working memory better so that I can apply those principles to increase my reading comprehension and retention.
Christian Møgster
I am sincerely happy for the training, and especially for the progress. It also boosted my confidence and helped me in landing a new job in a venture capital firm.
Daniel Wang
I can read and retain more information than before. This course was really great I think it helped me out a lot. Thank you so much for your time and energy spent teaching me!
Christopher Swacha
I would like to say that Anna is a very effective coach who not only changed my reading ability but how to approach learning. I have a much more focused learning mindset and I feel that I am more productive for it, sometimes it's as simple as asking why you need to read something and clarifying your goals.
The key to study system focuses on speed reading through improving visualization, improving reading techniques, thinking in pictures and associations, working memory, short-term memory. This has improved my general memory and cognitive performance.
Stephen Ryng
Really good course and I enjoyed it. My TrendTrading is a steep learning curve.
I believe in Accelerated learning, it's a long-term play. It's just getting everything to fit.
Rodrigo Seruya Cabral

 
I thought all the sessions were really productive, specially the last one, where we did practical work / practiced pre-reading and speed-reading. I've been thinking of going for another set of sessions with Anna, specifically targeted to the same practice I did in that last session I had, it would be almost as if 'forcing' me to practice more and more.
Steven Thiel
It went well thank you guys for your help. It was a lot more info than I thought I would get and we went into depth on a level I did not realize we would. You guys are not very helpful.
My progress has changed definitely! I have learned a lot and gotten faster at reading. I still can't effectively read and make markers naturally but I'm working at it. My marker generation is the hardest thing for me to do and keep track of while I'm reading so I practice this every day. I look at articles and try to just focus on generating markers one paragraph at a time and linking them together. I assume I will get faster at this over time. I also practice random word generation to help myself in this area.
Nee Ridge

 
Thank you so much for your email and your teachings over the last year.  The process definitely helped and naturally I am able to retain a lot more info.
I've been more selective in articles I read.  And it's been fun.
Thank 
you
 and Dr. 
Anna
for all your assistance. The 
training
was amazing and I have learned a lot from it. I would like to continue the 
training
with 
Anna
in the next y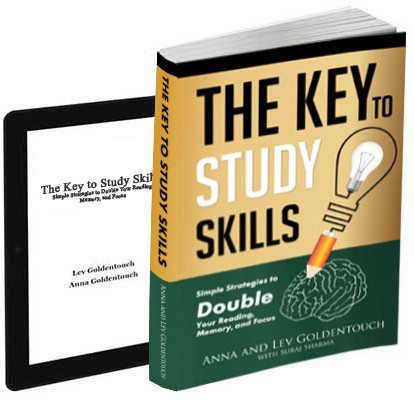 Get 4 Free Sample Chapters of the Key To Study Book
Get access to advanced training, and a selection of free apps to train your reading speed and visual memory