We are building a mobile app and want your help! To join our beta testing please email [email protected]. Please notice the web page is built for the initial experience and is not appropriate for daily use.

In short term visual memory training you see several letters in front of you for a second, and then you need to count the number of occurrences of each letter. The more letter of more types you need to count over a larger area, the harder the exercise. You can choose which part you want to work on (saccade size, capacity of memory, accuracy of memory). A normal superlearner should be able to read a flash of 9 letters of 3 types over saccade of 400.
Do not count the letters from the screen: form a mental image of the screen and count the letters from the mental image. Practice for 10 min per day and after several months, you will have better photographic memory.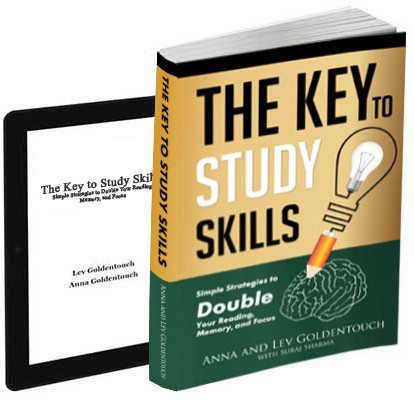 Get 4 Free Sample Chapters of the Key To Study Book
Get access to advanced training, and a selection of free apps to train your reading speed and visual memory