Another tool for learning.
One of the most useful memory exercises is trying to remember 20 words.
The method requires
1. Chunking of the words into groups of 3-5 words
2. Creating visual markers per word and linking markers within each chain
3. Speed element – needs to be done under 1 min
4. Many of Anna's students remember all 20 words after 3 weeks of training.
Notice: you will have some issues trying to generate markers for more abstract words. Try to generate icons. At some point things will start repeat themselves.
Try this. Reload page to get another word selection (out of ~3000 words chosen by Oxford)…
encounter
purple
essentially
representative
rhythm
manufacturing
extensive
read
drag
former
give
satisfaction
feel
birthday
interruption
sudden
climb
based
direct
pace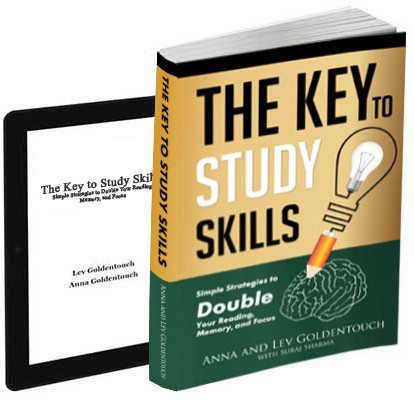 Get 4 Free Sample Chapters of the Key To Study Book
Get access to advanced training, and a selection of free apps to train your reading speed and visual memory