While I had a long and organized training on creativity (I am planning to release some materials on this blog), Anna is a master of out-of-the-box thinking. She claims that she uses one and only one trick, but she perfected using it. Anna calls this trick "multiple perspectives".
Draw down a shape or write a word. Now take two minutes and write as many associations as you can. The average number is 15. I can do 40 on a good day, limited more by writing speed than by creative potential. How do I come up with 40 uses for a finger or 40 objects that look like a rectangle in two minutes alone?
I am utilizing the power of perspectives. I have an array of perspectives I always try:
What is this item made of?
How can I use this item?
What everyday object looks like this item?
How this item can be used for … (war, food, construction, art, entertainment, sports, grooming)
What historic or symbolic meaning is associated with this item?
Where I can see similar items in nature?
I have many more of these questions, and I ask them very fast. Each question projects the item into a range of virtual landscapes where I try to fit the item. For each landscape, I either get several perfect fits for the item or a reason for failure and thus a link to the next landscape to try.
A similar task of multiple perspectives is given by medium-level visualization: we take an item and rotate it (a topological operation will do) in a 3D space. With each new angle of the marker, we get new details and colors, each detail and color associated with details and colors of the knowledge we are trying to encode.
The third task of perspectives opens up the hyperlinking process. When viewing a new piece of data we try to project it on various bodies of knowledge we already have in our heads, and if there is a connection we generate a link between the marker and the existing object.
Try out these exercises yourself, or if you want to schedule a teaching session with us via [email protected].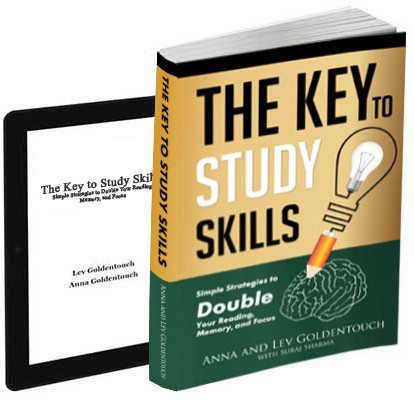 Get 4 Free Sample Chapters of the Key To Study Book
Get access to advanced training, and a selection of free apps to train your reading speed and visual memory