Here are the initial exercises that help you to develop visualization capabilities. They are also good for controlling your focus and mindfulness.
1. Photograph
Find a photograph, and take your time to analyze it. Memorize every detail you can. Then simply close your eyes and try to recreate it in your mind. Bring in as much as you can: the colors, the birds in the sky, the freckles on the skin — whatever is there. Open your eyes to get more detail if you have to. Remember that this is not a test: do it until you get good at it.
2. Object
For the second exercise, we're going three-dimensional. This time, take up a small object: perhaps your pen or your keys. Again, analyze all the details and memorize it. Take your time. Now, close your eyes, and see the object mentally. The challenge here is to start rotating it. See every detail from all angles. If you feel comfortable, begin to bring in some surroundings. Place it on an imaginary table. Shine a few lights on it and imagine the shadows flickering.
3. Focus
You start with a point. A black point on a white background is very precise and holds your focus. When your focus is fully attracted to the point, you start to increase it into a circle. The circle encompasses several things and you can bring shapes into and out of it with the power of your mind. Increase the circle as much as you can without losing the intensity of your focus, and bring in a simple inanimate object: a flower, a statuette, or a candle. Make the object rotate and dance in your imagination. Try to experience it with all senses. When the object becomes lively try to transform it into a specific person. Visualize the person in all details. Generate a conversation with the person, to the point where you are drawn into conversation. At some point, both the circle and the person disappear, and you drift to magical landscapes created by your imagination as the result of your conversation…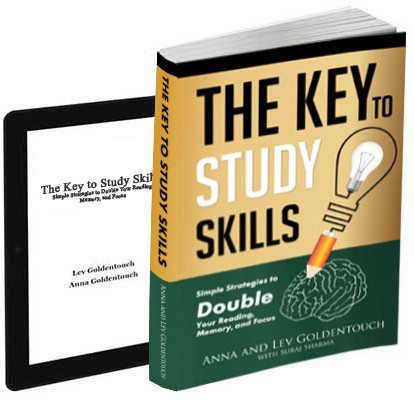 Get 4 Free Sample Chapters of the Key To Study Book
Get access to advanced training, and a selection of free apps to train your reading speed and visual memory