The brain cannot efficiently perform two vocalizations at the same time. This training not only teaches you speedreading, but also opens you to efficient multitasking.
This exercise is the simplest way to reduce subvocalization when reading text line by line.
Choose to visualize one marker per line. You are allowed to subvocalize 1-2 words per line.
Beginner
Slowly (100wpm) repeat out-loud as you are reading the words, sentences and paragraphs, 2-4-6-8-10. Your job is to multiple by 2s as you read along. After you reach 10, continue reading, but start-over, 2-4-6-8-10, and so forth, to the bottom of the page. Don't focus on the counting, let it become a mindless song, a jingle. Your job is to focus above the words and feel you eyes sweep left – middle – right, sentence-after-sentence.
Intermediate
Now "silently" do the "2, 4, 6, 8, 10s", while reading. You can mentally raise-the-volume on hearing the numbers, and it will drown-out the subvocalization of the words. Our left-brain is a serial-processor, it can only run one-program at a time. When we focus on hearing the numbers it's like a jingle that gets in your mind and won't leave, and that song takes prominence over the subvocalising the words.
Expert
The objective is to not need the numbers, and not hear the words you read. Open up a TV or radio or another noise source and focus in what you are reading. Make the brain focus on the text a hand and not on the conversation on TV. Now slow down your reading and focus on the conversation. Try to really understand the conversation while reducing the reading speed to compensate. Continue for 3 minutes and switch you focus back to the text.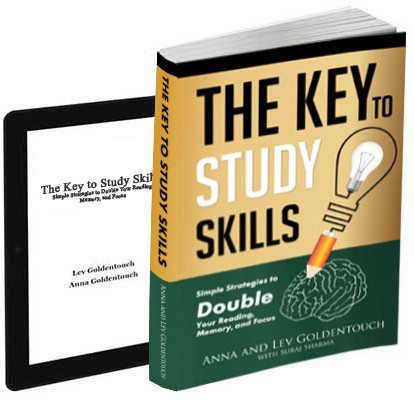 Get 4 Free Sample Chapters of the Key To Study Book
Get access to advanced training, and a selection of free apps to train your reading speed and visual memory