We teach our students to preread, read and reread without stating where we learnt it ourselves. To fix this injustice I introduce so called SQ3R system that is commonly used in US schools.
Survey. We also call this prereading. Usually we skim or scan the content before we read it to prepare our mind for new information. This is thoroughly covered in our course materials.
Question. Before reading the text we can ask ourselves why we are trying to read it "what is in it for me". Clear motivation improves reading process. Getting to the content from different perspectives improves our benefit. Typically we merge this step with prereading. Scanning-questioning-skimming is a good way to filter out what articles we want to read and how much effort to allocate for each.
Read. Clear your mind and just read the content. When reading, you maximize the benefit of previous SQ steps, do not reread and dwell in irrelevant details. Anna strongly suggests to learn prioritize text AFTER graduating 1000wpm 85% comprehension, or you risk get stuck in speed vs comprehension tradeoff…
Recall. We add details to the markers AFTER reading each paragraph. This is our way to insure we recall the paragraph. During training we first make sure to read-recall several times until we get 100% retention, only after several weeks we trust the brain to recall automatically.
Review. Analyze the content from multiple perspectives. See what you learned and try to connect it to previous knowledge. Personally probably I spend more time on this step than all previous steps taken together. If you do not review the article properly, it is hard to understand it and occasionally you will need to revisit it over and over.
Be active BEFORE and AFTER you read. Ask questions, build strategies, look for support of your insights, synthesize new ideas, try to implement new techniques… However when you read, try to clear you mind and focus purely on the text. Anna always says "do not read and analyze at the same time, your working memory is not built for it". Our preread-read-analyze process was built as simplification and clarification of SQ3R process.
Scan/skim when prereading, read with open (and prepared!) mind, visualize/analyze after reading. We structure reading process in a form that optimizes brain processing abilities. Trying to mix steps may overload your brain (working memory/visual cortex etc) and reduce both speed and comprehension.
SQ3R is a great alternative to our preread-read-analyze process, addressing the same needs in scientifically sound and widely acceptable format. One way to ensure you will retain material is addressing the material from many angles. By using structured reading process we ensure that we address the material from many angles without unnecessary repetitions and without loosing precious time.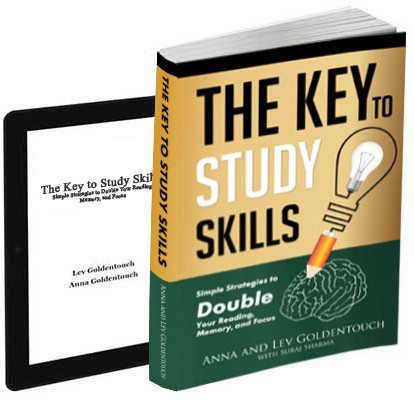 Get 4 Free Sample Chapters of the Key To Study Book
Get access to advanced training, and a selection of free apps to train your reading speed and visual memory