Some people feel inspired by a massive display. It is the ultimate productivity tool for someone working with AI or photo/video editing. Even if you have many good screens, you want one screen to be exceptionally good. This screen will probably cost as all other screens combined. But what are qualities are you looking for in that special screen, and why bother?
Beyond technology
Every year we see a new generation of displays with slightly lower price, higher size, and resolution,  better contrast,  faster refresh rates. Maybe this was important 10 years ago, but now it is not an issue. Not sure it makes sense to spend a lot of money for an update that is due to become common within 2 years.
Display manufacturers try to build a technological differentiator. They used to offer 3D, but we did not really like it, so they stopped. Some displays come with USB hubs or ambient lights, but we do not really need those. Several years ago many screens were curved, but today you will not find many curved screens.
The qualities you may want in your "holy grail" display are probably of a different nature and cost more.
Touch
We are used to good touch screens in our phones and tablets, but we can also get a good 24 inch touch monitor for the price of two regular displays of the same size. Notice, this is slightly below the minimal size we would like in our main display and the specs will not be as good.
Consider Philips 242B9T monitor. It is only 24 inch in size, and its resolution is just 1920×1080 with a contrast ratio 1000:1.  Pretty mediocre performance…  Only it offers the touch experience of your phone in the shape factor of your PC display. Use it as your secondary display, place another 24 inch display above it to monitor your emails and whatsup. It is a wonderful extension of your setup.
The screen is ergonomic, flicker-free, without wobble when you press it and with good eye protection.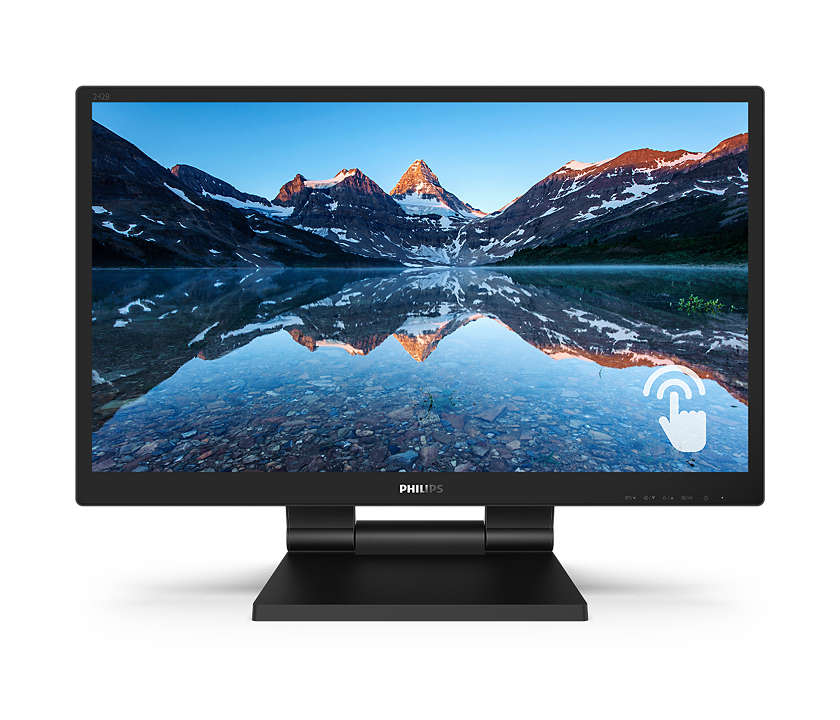 Very large screen
Consider the Samsung Odyssey family of computer displays. They are huge, like three separate displays. They are curved like you would position three displays. And they cost like three displays.
The G9 Odyssey spec is monstrous: 49 inch, Quantum dot illumunation, 5120×1440 resolution, customizable backlight, 240Hz refresh rate, 1 msec response time, Nvidia GSync support.
The resolution of such a display is not stellar for its size. Why should anyone use them? Here are some reasons:
They offer the functionality of roughly three displays but take only one cable (GPU entry) and much less table space than three displays would.
The driver allows for the definition of virtual displays. Each is treated by Windows as a different display would be. Only you can change their size as you want. Fully customizable.
It is very hard to get a consistent color scheme across three separate displays. Very easy with three virtual devices.
Some games can truly use the monstrous display for an immersive experience.
If you buy a screen like this, you will probably use it for years to come… Or maybe you will be very disappointed by the panel adhesive used and light bleeding through. Execution and luck can often be more important than the spec…
If you want an alternative, consider LG 34-inch 5K Nano LED Monitor for approximately the same price.
Extreme dynamic range and resolution
If you need to edit websites, images, or videos and fix each pixel that does not look good, you will need a pretty unique display. Some companies offer their top-notch screens with these qualities. Apple's Pro Display XDR is just one such monster.
This is a 32 inch Retina 6K display with 1600 nit brightness and 1000,000:1 contrast ratio. It costs like 10 regular displays of similar size.
What makes this display special is a huge matrix of LEDs that provides different illumination for each square of the massive LCD screen. LCD provides very good and sharp optics, and LEDs provide extreme contrast variation.
Clearly, everything in the color of the screen can be calibrated to allow for the most accurate editing experience. Apple's display works really well with Mac and kind of works with Windows (Titan RTX 24GB and SLI connection plus Gigabyte GC-TITAN RIDGE in Thunderbolt 3 connection).
Dell's UltraSharp 32-inch 8K with 7,680 x 4,320 resolution and 1300:1 contrast is a good option for a really nice Windows monitor. It will cost you like four regular displays. Because of the technology involved.
If you edit images and videos all day long, consider buying one of these…
Truly professional display
If you need a better Windows-compatible display and money is not an issue, you can try BVM-HX310 by Sony. It has 10 bits per color, 4096 x 2160 pixels at 31 inch, while your regular screen has only 8. This allows input of raw images and video in true colors. And it costs like 100 regular displays of the same size.
What is the story of a professional display? I quote Sony:
The difference is not in the screens themselves: both consumer and professional models benefit from our cutting-edge display technology.
But while a consumer display is designed to be used in a home environment and to allow the user to watch television and movies, our professional displays offer so much more versatility – from incorporating graphics to linking to live websites, video conferencing and more.
What's more, they're typically built with the corporate setting in mind meaning they're more robust, resistant to dust and dirt particles and have a sleek, compact design.
Do you really need a professional display like this? Probably not… Unless you really need to impress your customers. In that case, money is not the issue.
Mixed reality
Maybe the best screen you need is not a screen at all, but a mixed reality headset. Mixed reality is more expensive than AR of VR and it allows placing immersive virtual objects in a real environment. This means very hight resolution and very low latency. You can play your best games with ease, but you can also visit places… If you work with 3D, this can possibly be your best option to really see the models you work with…
There are several options to choose from. Microsoft HoloLens is one of the most effective options.
This is a cool option for hackers and tinkers of any kind: from industrial designers to medical doctors. As an added value, it does not take much space on your desk. A proper HoloLens or HTC VIVE will cost you like 10 headsets from Asus or Dell.  The technology is still young, and HoloLens has some of the best presence and support in the market.
Do you really need it?
I do not use any of the holy grail displays. Cheap displays are just fine for me. I just need many of those. Some people buy good displays to increase productivity, others to impress friends and customers. Many people will buy an expensive display simply because they can.
Do you want one? Do you actually need one? I will let you decide.
Get 4 Free Sample Chapters of the Key To Study Book
Get access to advanced training, and a selection of free apps to train your reading speed and visual memory