Recently I read this and this articles and remembered the time I just started discovering superlearning.
After finishing my PhD and successful exit of the company where I started my first job I was a bit lost: what to do next? I was sure my education and working experience will provide me a job in whatever I want whenever I want and I "let go". So I decided to experience as many things as I can and see where it takes me. I tried several things and made many mistakes.
Fast-forward several years that could fill a lifetime. I had a wife, kids, lots of stories, lost all my savings, and still no clue what to do next. I was not too excited  about getting an executive position (too much stress, I was not cut for this) or becoming a scientist (too little stress, it was really really boring).  Accidentally I found out that my first real job actually was the only job I really liked.
So I decided to give up the few dreams I still did not try out, and went for job interviews. Nobody hired me. I thought I was overqualified, so I underplayed my CV and tried again. Still no luck. To my amazement the area of my research, the area of my first real job was not there any more. It experienced a paradigm shift. Within something like 3-4 years several works were published and several technologies released that made my previous experience slightly irrelevant. I had to relearn the entire skill-set.
Fortunately for me approximately at the same time my wife taught me the basics of superlearning skills. Probably because the teacher was my wife I was not a star pupil, and with 600wpm at 80% understanding I still needed to learn the new skill-set. So I started reading. I decided to read 100 articles per day – scientific articles, technological articles, lifehacking/psychology articles.
First it took me an entire day to complete the reading task. But very soon brain adaptation kicked in, and I started to notice the repeating motives and focus on new things. By clustering the new facts in my mind I could skip 80% of the body for most of the articles, and could read the whole collection at 2 hours, but my retention rate dropped. At this point my education caused me to analyse the data flow and my brain's ability. I decided to try several tricks I knew from handling communication channels. To my amazement that worked! I could read at 1000 wpm and 80% understanding, moreover I did not have to stop to analyse the material – the analysis came as by-product. Within 3 months I learnt the entire skill-set I was after and 4-5 skill-sets nearby.
This did not prepare me for the next job that I found: my friend was so much impressed by my ability to learn that he offered me a job where I had to learn yet another 4-5 skills-sets [programming flash, android-JNI, iOS objectiveC and game design].  I took the job. Then I took another job where I needed to master more skills. At some point I understood that with my superlearning I can master basically any technical skill I want in very little time. Now I was getting only the jobs where I got real satisfaction from being in the "zone": mastering a totally new skill and getting superior results every several months.
So this is what I do now. I am a consultant. I take only the jobs which no sane person can handle due to complexity. I do these jobs well. I am busy but happy.
With ever-changing job market and ever-rising technological complexity there is no safe job. Education, work experience, good employers – they all may easily become irrelevant in a paradigm shift. And paradigm shifts happen all the time. The only key to job security and fulfilling career I know is the ability to learn a new skill-set in little time and with high success rate. And this is the premise of the superlearning….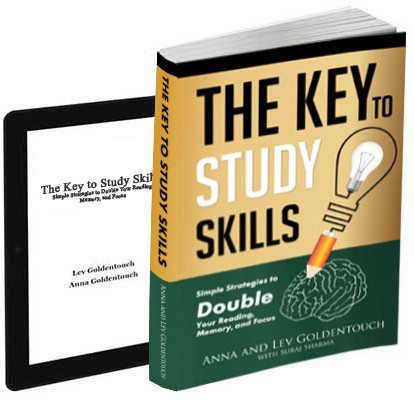 Get 4 Free Sample Chapters of the Key To Study Book
Get access to advanced training, and a selection of free apps to train your reading speed and visual memory