People have a list of reasons for taking gap years in college or returning after a long period out of school. Many of the same concerns apply to corporate training. Family responsibilities, medical issues, and avoiding burnout are a few.
We also see movie storylines centered around people returning to school, like "Larry Crowne". Although fictional, the title character's story is an example of a common struggle today for many adults resuming their education.
Read on to learn more about why there's nothing wrong with going back to school to get your degree or seek a corporate certification, even if it's been a while.
Excuses for Not Getting Back to Your Books
Although going back to college would benefit many, there are still some common fears that might make some hesitant to take this important step. Many would enjoy an advantage in the workforce by going back to college. A new degree or certificate program may open up avenues that you previously believed were closed.
College graduates may have more job opportunities than non-college graduates. However, despite the possible gains, many hesitate to take this life-changing step.
Despite colleges and universities hosting students of all ages and backgrounds, many feel out of place in a college or university setting. Some may feel that if they did not finish college initially, there is no benefit from returning. Unfortunately, these prospective learners are missing out on a lot of excellent potential resources.
Even though many students in colleges and universities are middle-aged or older, anyone who initially went to college at a younger age may feel like the setting is too alien for someone no longer in their 20s. With the number of students who have started careers and then returned to school, colleges and universities have tailored their programs to fit people with different social needs than the stereotypical 20-something college student.
Being able to keep up with younger classmates who may not have as many responsibilities outside school is another reason for hesitancy. Although many with full-time jobs are able to successfully return to school and manage their responsibilities, some are concerned about their time management skills. Your ability to balance responsibilities should be part of your consideration.
Tip #1: Adopt a Study Plan That Works for You
A study plan that works well for a busy schedule will make it easier for you to get back into the right rhythm of things.
Brushing up on subjects that you haven't studied in a while or that are new to you is a good idea. Many returning students, based on their past experiences, recommend against taking more than two courses per term. You'll have a better assessment of your work-life balance in these circumstances.
Ensure that you have specified study times where your family and friends understand that you are not to be disturbed. Unfortunately, some will not give your studies the gravity they deserve unless you're firm about enforcing such a policy in your life.
One thing that you should keep in mind is how many free resources are available that can easily supplement your primary course material. Sometimes, a fresh perspective is what you need to master material that is otherwise eluding you as you study.
You may want to take advantage of periods of free time to do some extra studying. Some of the examples may include commuting on a bus or train or during your lunch break. You may be surprised how much you can learn during short study periods.
Tip #2: Try a New Way of Learning
If you last attended school more than a few years ago, you've likely found that technology has changed a lot.
The academic world has extended far beyond weekday or weekend classes requiring you to have to visit the library for most of your research. If you have a busy job schedule or other major responsibilities, the good news is that you can still find a way to pursue your education.
Many schools offer in-person classes during the week, in the evening, or on the weekends. Another popular type of class is a hybrid class, which alternates between on-campus and entirely online courses. Entirely online classes offer the most flexibility for many students.
Semester and term schedules are also flexible. Although traditional fall and spring semesters are still popular with a majority of students, alternate term schedules work well for many. The holiday break between the end of the fall semester and the start of the spring semester, Maymester, and summer terms make it easy to catch an additional course or two.
Trying out a new course format or taking classes during a different term can help provide a fresh new perspective. Sometimes, changing how you learn makes a difference in what you take away from the experience.
Tip #3: Don't Be Afraid to Follow Your Dreams
Returning to school after a long gap can be the perfect time for you to follow your dreams. Ask yourself the following:
Am I happy in my current career?
Has my industry changed faster than I can keep up?
Are the career prospects in my industry good?
No adult learner should feel obligated to pursue an area of study that they do not find interesting. If your passion may lead you to an ideal or better job, you will be doing well to consider exploring it.
Talking to an enrollment counselor may help give you an idea of what fields are available for your preferred concentration. Enrollment counselors have a good understanding of what fields many graduates have gone into.
Tip #4: Start Slow
If your course offers a choice in terms of the number of subjects/courses, as mentioned earlier, try to take fewer subjects/courses when you start. While choosing more subjects early on may seem exciting, it may also become too overwhelming for you to handle at once. You can start with each subject one by one and see how its study fits into your schedule. Once you figure out how to handle other responsibilities, you can gradually increase the subjects/courses as desired.
Tip #5 Break Things Down
It is always helpful to break the syllabus down into small and achievable milestones. Through this method, you will be able to ensure that you are on track as per the study plan. Research has shown that consistent study through bite-sized lessons can be more effective than leaving everything to the last few weeks before the exam.
Some people get off to a good start and tend to lose pace or pause studying due to other factors beyond their control (e.g. increased work pressure, priority domestic tasks, medical emergencies, etc.). In such cases, it is important to pick up from where you left off and continue at the same speed without losing hope. You can utilize any extra time or postpone non-urgent tasks to be done after the exam, in order to complete the syllabus on time.
Summary
Anyone considering returning to college will, understandably, have some concerns about taking such a big step. You have a lot of responsibilities as an adult and will likely feel somewhat apprehensive. However, following the above tips for returning to school after a long time can help to make things go smoothly.
You won't have any way of knowing if taking courses would have helped if you don't try. That dream job or business might be easier to reach.
Bio
This article was written by Helen Back from HotDog.com, a company replacing expensive cable TV bills with low-cost video streaming. Check out for example "Larry Crowne", streaming on DIRECTV STREAM.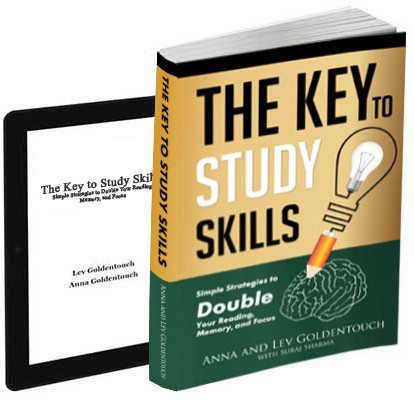 Get 4 Free Sample Chapters of the Key To Study Book
Get access to advanced training, and a selection of free apps to train your reading speed and visual memory