With the high price of education, we should be smart enough to ensure some return on investment. Different people will give you different advice. You may choose a good job: as a doctor, lawyer or engineer. Alternatively, you may pursue your passion and have a chance of becoming the world class expert in something. And some will even urge you to be creative and learn a profession that will ignite your creativity and entrepreneurship. While I have my own perspective on the subject, I am more than happy to publish views of other authors. In this guest post, Sophia Carter tries to apply the SMART goal setting methodology to your education goals.
A goal is an objective or desired outcome that is set and aimed to be realized within a time frame through making some efforts. Research performed by a psychology professor, Dr. Gail Matthews, from the Dominican University of California and cited by numerous publications shows that there is a correlation between a student's academic excellence and goal setting – 33% of those who write down their goals, share them with someone, and update them every week are more successful in accomplishing their stated goals than those who simply formulate goals. So there you go.
A goal offers a student a sense of the destination to aim at. A realistic goal gives a student a sense of the achievable path. If you want to achieve academic success, be it at high school or college, it is fundamentally vital to set realistic and correct goals in an effective way.
2 Main Types of Goals You Should Stick to
There are mainly two types of goals that you can set to achieve academic success. A goal can be either long term or short term. A short-term goal is one that is planned to be achieved in the near future. The near future can be today, this week, in a few months or this year. According to Inside Higher Ed, short-term goals are more effective. Usually, short-term goals are small tasks needed to get to the bigger picture. A good example of a short-term goal is to secure excellent academic grades that will guarantee you graduating with flying colors and landing a high-ranking job.
4 goals you may want to set and achieve are in the near future:
Finish a research writing project on time like a dissertation;
Get a high mark for an assignment;
Apply for a grant;
Learn a new skill.
A long-term goal is something planned to be achieved in the future or a distant time. This includes students reaching their objectives during and after schooling. This could involve giving up certain habits to achieve long-lasting gratification. An example of a long-term goal for students is learning time management to become a better student and employee later in life. Long-term goals are more gratifying and last longer than short-term goals. They require more time and planning to be vital for a career success of a student in the distant future.
3 long-term goals you may want to set and achieve:
Rise to the top of the classmates;
Acquire a school-leaving certificate;
Graduate a college with full honors.
Remember that all your goals should be realistic? So we provide you with good examples of goals as we are sure that you can manage to achieve them. How? Just know that there are those who are ready to help you – tutors, professors, academic writers, and so on. If you want to write an essay or any other paper, just contact an online essay writer free now to offer a custom academic writing service and buy a paper from him/her.
5 Characteristics of a Goal You Should Remember As Well
Based on a survey conducted by Forbes, an academic goal should be SMART that means:
Specific – When you establish a goal, it should be made as clear as possible to take out any ambiguity and give you clarity where your efforts should be focused.
Measurable – When you work towards a goal, you should estimate your progress and know if you reach up to your destination or you're going in the right direction. Besides, don't forget to determine what efforts are needed to reach your goal that makes it easier to reach and enjoy the final results.
Achievable – Before setting a goal, you should weigh if it can be attained by you objectively. In other words, ensure that your goal is established within your correct skill set and resources. For example, if you need to write a research paper but don't know how to do it successfully, you should accept the lack of strong writing skills. In this case, you may need to use a custom writing service. All you need to do is to have money even if you find a cheap service.
Relevant – Examine if the goal will be beneficial to you in any way. If any goal will not be useful to you on a short-term or long-term basis, you should consider taking it out and searching for a more relevant one.
Timely – Any goal should be achieved within a particular timeframe, either a day, year or all the life. However, the time allocated to achieve a goal should not be too much. In this case, you risk losing track of it. For the case of emergencies, the time given to your goals should be flexible to allow room for any possible adjustment.
7 Steps to Set and Reach Goals
1.   Write Down Your Goals
Putting down your goals on paper makes them visual. Know anything about the visual form perception? Use positive words in describing your goals as this will go a long way to motivate you. In addition, keep them short. For example, you should write, "Pass all the exams to obtain my degree" rather than "I want to pass all my exams as I want to obtain my degree this year".
2.   Make Your Purpose Clear
When you do not have a sense of purpose, there is a slight chance that the objective is going to come into fruition. Ask yourself why you want to achieve this goal. Do you want to earn an excellent grade to graduate top of your class? Do you want to learn a skill to increase your chances of landing a high-ranking job in the future? Having your purpose clearly defined somehow pushes you into realizing your goals no matter the challenge(s) lying ahead.
3.   Create Your Goal(S) To Be In Line With Purpose
When goals are set for the sake of it and not accordingly, to your desire, you will lack the motivation to work towards achieving them. Goals should align with your purpose to make them realizable.
4.   Start Working towards Your Goal
With your goal clearly written down and purpose clearly defined, the next step should be getting all hands on deck to see that it is realized. A goal is achieved by making an effort. It will be a pipedream if after drafting a goal and nothing is done to make it come true. Goals most often than not come with its own challenges. If the path that you are walking can't lead you to your desired destination, seek an idea from other people on what you should do. Take a break and examine the faulty areas. Do something that will take you towards your goal.
5.   Keep Your Goals Within Sight
During the course of achieving your goals, it is inevitable that you will be distracted. You can stay connected to your goals by making them visible at all times. Write and keep them where you can see them every day and certainly work actively towards them. When each step is completed, take time and see if you are heading towards the appropriate direction.
6.   Create Backups
it is inevitable that you will come across road bumps while attempting to reach your goal. You can take a preemptive action by planning for an alternative course to take when the challenge steps in. If it is hard to attain a goal on your own, you should consider someone's help. For example, join a reading club or writing center to improve your skills. When you join it, a community that shares a similar goal with, you will become more propelled to achieve your goal.
7.   Reward Yourself
When you have reached your goal, take some time to enjoy this moment and reward yourself. Think of what can bring you pleasure after hard work. A cup of tea or shopping? The type of rewards can depend on your achievements. Finished your homework? Play your favorite computer game. Managed to complete a project? Meet up with your friends in a cafe and so on.
What Do the Others Say about Goals?
"People with goals succeed because they know where they are going" by Earl Nightingale.
"Goals allow you to control the direction of change in your favor" by Brian Tracy.
"Winners never quit and quitters never win" by Vince Lombardi.
Start realizing the importance of setting a goal and sticking to it? Through goal setting, students prepare themselves for adulthood. They discover and learn the processes of achieving success such as dedication, focus, hard work and more. These traits acquired and developed, eventually, in the future, come in handy to get jobs in any top company. Always keep focused on the big picture as this will greatly egg you on to keep going.
Bio
Sophia Carter specializes in blogging and essay writing. She offered to write a post about hot issues of today students – how to achieve and maintain academic success under pressure of work and time. She offered a proper perspective on setting some realistic goals to show an academic excellence.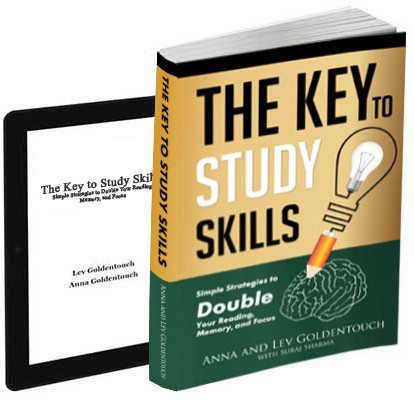 Get 4 Free Sample Chapters of the Key To Study Book
Get access to advanced training, and a selection of free apps to train your reading speed and visual memory