There are many resources on how to write better, yet most of these resources are too specific, too generic or poorly written. This guest article by Carol Duke captures the essence of writing in academic English as a set of simple and clear bullets: rules to live by as a writer. I hope you will enjoy it as much as I did.
Unlike numerous writing styles like a letter, blogging, and several more, 'Academic Writing' is entirely a whole different beast which delivers a specific structure and format that cannot be seen anywhere else.
Academic writing intends to practice at the institutions that value high learning and thinking procedures, i.e., colleges, universities, and scientific centers. Nearly all the write-ups done in these establishments require quality Academic English. Whether you are writing an essay, scientific journal or a lab report, you need to have a strong command on writing in Academic English. You may take up a course to learn and refine your writing capabilities.
Persuasive communication and clarity of thought are what you need to excel in the world of academia. Therefore, we have compiled some very important tips which will guide you to improve your writing in Academic English.
Write Formally:
You need to be formal in your style and format.
Keep your sentence construction short and straightforward. Do not use complicated vocabulary.
Be very careful while choosing words to write. Be respectful and avoid repetition.
Ensure narrative links between the sentences and the paragraphs so that the readers can easily follow the argument.
Write in third person format as words like 'you' or 'you are' sounds pretty informal.
Slang language is strictly prohibited. Always use the words that are based on the dictionary definition.
The use of qualifiers is not allowed which includes words like hopefully, really, surely, absolutely, basically, etc.
You should stick to the facts and discourage the involvement of intense and emotional statements.
Correct usage of grammar:
While writing in academic English, it is necessary to use the passive form of a verb.
It is advisable not to use contractions, or the shortened form of verbs like doesn't, won't, can't, etc.
The use of personal pronouns like I, we, me, etc. should be sidestepped.
The conjunctions or the linking words like 'and' or 'but' should not be used at the start of the sentence.
It is vital to understand the breakup of the text of your sentences and use correct punctuations. Getting help from grammar and punctuation checker tools in this regard is a good idea. Many students also look for some paid online editing and writing services assistance options which are being offered to address the complexities of academic writing.
Comprehensive Research Work:
Go for an extensive research procedure.
Read the early searches and the reports in detail that revolves around your chosen topic as it will not only give you a more explicit viewpoint but also let you produce fresh material which has not been published before.
Jot down the points that instantly hit your mind to create a draft or an outline. It will help you to plan in advance and later you can organize your thoughts to come up with the final product.
Structure of the Paper and the Supported Evidence:
Quickly mention the main points in the first paragraph that will give an overview of the entire document.
Be very vigilant while creating a solid thesis statement.
It isn't about writing your own opinion so present hypothesis and support your arguments to produce a compelling publication.
Do not forget to add up the supporting sources at the end.
Keep In Mind Your Audience:
The audiences of the academic writers are the intelligent and educated people who already have a good volume of know-how about the topic, so we suggest you to avoid defining and explaining basics and focus on the advanced levels.
Do spend time explaining the concept they are not familiar with.
Ensure that your audience can fully understand the points you want to convey.
Lastly, proofreading is extremely important. You can use online editing and proofreading tools for that. Carefully examine the paper and make the necessary changes where required.
Here's an example of how not to go about writing an academic draft.
"Sir Arthur Conan Doyle's most famous works have to be the short stories and novels based on the finest fictional detective of all time – Sherlock Holmes. Dark and gritty, filled with suspense right from the word go, along with the occasional comic reliefs provided by Dr. Watson, Holmes' stories had become an instant hit back in the day. I believe that the swashbuckling detective was first featured sometime during the 1880s in Doyle's novel titled A Study in Scarlet. It didn't take long for Holmes' vast horde of knowledge and amazing skills of observation and deduction to become popular among the avid fiction enthusiasts of the generation. His stories are generally written from the POV of Dr. Watson, which makes them all the more interesting."
This may look good on a blog, but academics will dump it in the rejects section.
Here's how you should ideally write it.
"The short stories and novels based on the fictional detective, Sherlock Holmes, are widely regarded as the most famous works of Sir Arthur Conan Doyle. These stories are dark with occasional comic reliefs provided by Dr. Watson, Holmes' trusted friend and biographer. The detective was first featured in Doyle's 1887 novel, A Study in Scarlet. Later, the character's popularity increased post the publication of his short stories in The Strand Magazine in 1891. Sherlock Holmes is known for his vast hoard of knowledge and amazing skills of observation and deduction. Doyle preferred to take Dr. Watson's point of view while writing the stories because they wouldn't have been as mysterious if Holmes' was the narrator. Notable exceptions came in His Last Bow where the detective is shown to take charge of the writing."
Note that in this rendition of the write-up, the information is succinct and to the point, without using any unnecessary adjectives. Accurate information is favored over any form of embellishment. I'd also like to point out the third-person narrative as opposed to the first-person one in the incorrect snippet. And don't forget to note the homonyms (horde, hoard).
Final Words
Before signing off, let me address one of the most common misconceptions about academic writing – the need to create a unique idea. While the formulation of a unique concept is well and good, there is no particular emphasis or requirement of the same. Research is what matters, along with a great attention to detail. You can craft a new perspective on an existing idea or draft a valid argument against it. For instance, did you know that Thomas Jefferson didn't create the Declaration of Independence from scratch? James Porter, a Rhetoric scholar, states that Jefferson had penned a commonplace book when he was a kid, and that quite a few of his phrases in the Declaration came from that book. 'That all men are created equal' was directly copied. Even 'Life, Liberty, and the Pursuit of Happiness' was a common phrase often found in various political papers of those times, Porter declares.
Undeniably, it takes a lot of time to create excellent writings; however, its learning and the practicing that helps you improve your writing skills and things will begin to turn out to become easier for you.
Remember if you follow the above-mentioned tips to improve your writing in academic English, you will definitely be able to produce great masterpieces in the time to come.
Author's Bio: Carol is very keen on teaching students new, effective ways of learning. When not freelancing and blogging on education-related matters, Carol enjoys traveling. She takes immense pleasure of visiting new countries.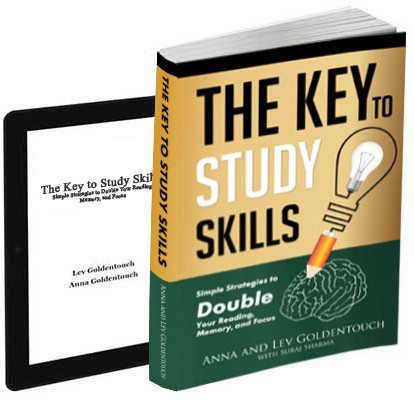 Get 4 Free Sample Chapters of the Key To Study Book
Get access to advanced training, and a selection of free apps to train your reading speed and visual memory