Accounting has been practiced for centuries. Over the years, accountants have slowly incorporated technology into their processes as innovations and advancements rise. Traditional accounting primarily sought to assess, compile, and record spending. When technology was integrated with accounting, it could look for patterns, causes, or swings in expense behavior.
Modern accounting is transforming conventional accounting systems and procedures via software and hardware that automates operations and lowers the requirement for tedious, repetitive tasks. It can also analyze the trends and variations that are tracked and compiled with the help of programs.
What is Cloud Technology?
A part of the developments in modern accounting is cloud computing & technology, commonly referred to as the cloud. The cloud has completely changed how information is shared and saved, and it has gone beyond the restrictions of sharing using a physical device and has opened an entirely new aspect of the internet.
How Does Cloud Computing Technology Work?
In short, the cloud is a virtual storage space. Today, numerous popular examples of the cloud are being used, like iCloud, OneDrive, Dropbox, Google Drive, and Amazon Drive. These technologies have helped individuals and companies store their data in a secure and easily accessible space.
Cloud computing technology uses connections like satellite networks, enabling people to access digital resources kept in virtual space. Information and apps stored in the cloud can be used and shared regardless of a person's location.
What is Cloud Accounting?
Because of these technological advancements, cloud accounting is possible. Cloud accounting is as simple as using an online accounting system, except it can be tailored to your business and accessed anywhere, at any time, by authorized personnel.
Cloud-based products and services handle bill invoicing and collection, tax preparation and compliance, and online bookkeeping. More advanced software can handle budgeting and financial planning.
10 Ways Cloud Accounting can Improve SMEs
Accounting-related tasks and processes are made simpler and done faster by using cloud accounting services. Because of this, business owners have more time to expand their operations and focus on other responsibilities.
Small and medium-sized enterprises (SMEs) are given more chances to grow through this technology. There are additional benefits of cloud accounting discussed below.
Saves money
One of the common limitations of SMEs is their budgets. Whether in the growing stage or not, small businesses need to be financially wise in allocating and managing their capital.
Using cloud accounting can help reduce various expenses that companies usually face. Physical server hardware and other devices can be expensive and require IT support, maintenance, and regular upgrades.
When SMEs turn to cloud accounting, all those overheads are eliminated. Complicated and costly office set-ups are also reduced, and there is a reduction in power usage and operating costs. Cloud accounting software offers competitive pricing and flexibility through monthly charges, and they do not require pricy installments and are revocable at any time.
Since cloud accounting allows business personnel to access and work with their data from anywhere, there is also no need to travel to the office, eliminating transportation fees.
Secures data and provides backup
Data is a crucial part of every business, and entrepreneurs sometimes find it challenging to store them, especially when it is growing immensely. There is even greater pressure when handling sensitive or confidential data.
The cloud offers businesses a safe, affordable, and space-efficient way to store data and have backups. They are also safeguarded from intrusions, cyberattacks, and physical damage.
The cloud is ideal for risk and recovery. Besides securing information, it can provide backup, which is vital in managing data. Accounting firms can be relieved of making time-consuming backups and instead rely on technology to have their back. Switching to cloud accounting also prevents losing data from any hardware malfunction or corruption.
Although problems in the cloud are still possible, data is safely stored online even if a problem is encountered.
Stays updated
Cloud-based solutions are often being innovated and improved to serve their users better. Unlike traditional software and hardware, every upgrade has no fee or hassle. It is also very convenient because once subscribed to a cloud-based program, there is continuous access to the latest version.
Easy to use and efficient
Cloud accounting offers many tools and platforms that can improve SMEs. Implementing cloud-based solutions takes much less time and money than conventional accounting software. Once onboarding is complete, most capabilities are designed with the end user in mind, making them easily operated.
Another common feature of cloud technology is its efficiency. This development allows businesses to handle all aspects of the organization through an enormous virtual control room. Payroll, invoice payments, human resources, and general accounting no longer had to be treated independently. The significant help results in a decrease in costs, and it saves a lot of time.
Helps improve decision-making
It's important to make wise decisions with a clear understanding of how things are going, especially in the financial aspect.
Business owners can rely on cloud accounting technology to produce up-to-date financial statements that are regularly reviewed. The precise and updated data helps them make smarter business decisions improving overall function.
Provides convenience for business on-the-go
Entrepreneurs, particularly new ones, can find it challenging to manage their businesses, and it becomes even more difficult for those who are always on the go.
With cloud accounting, business owners do not need to fret. No matter where they are, they can oversee their business — provided they have a mobile device and internet connection.
Cloud technology provides convenient mobile access to businesspersons and their staff. Some SMEs may not have a fixed office space or prefer a work-from-home setting to save expenses, and using cloud-based software is the ideal solution for such arrangements.
It is also perfect for professionals who need to bring their work on the road with them while traveling, not letting distance be a setback for doing business.
Improves financial accuracy and control
Most cloud-based systems include features that can aid firms in strengthening their financial controls.
Bank reconciliation, for instance, can be made easier by uploading a business's bank statements or connecting a bank account. An accountant can then review and compare data with the actual bank dealings. These transactions are simpler as cloud technology offers real-time updates.
Enriches team collaboration
One of the key elements for SMEs to thrive is excellent teamwork.
Nowadays, gathering every staff member in person to work together is inconvenient, be it a project or the usual routine tasks. But cloud technology helps bridge the gaps between people. Even if colleagues work remotely, they can still cooperate since everything is in the cloud in real-time.
Cloud accounting software supports multi-user access and team member communication, enhancing collaboration efforts. It also provides an efficient way of monitoring activities and transactions because everything is centralized. There is no unnecessary duplication of files, and employees are assured that they work on a single file as a team.
With that advantage, SMEs or any business can resolve issues faster, accomplish tasks more efficiently, produce better outputs, and overall be more productive.
Reduces paperwork and storage costs
A paperless workspace can save a surprising amount of money, time, and effort. Traditional accounting involves handling paperwork, data entry, and printing documents; cloud accounting eliminates the need to work with physical documents and other inefficient ways of doing office work while practicing an eco-friendly business.
Digitizing documents frees up space in the office, and there is no need to stock up on ink and stationary, like paper and paper clips.
Not having to invest in a printer and spending on its maintenance is another way to steer clear of some additional expenses. Cloud accounting also helps businesses speed up transactions. For example, it is easier to locate digitized files and share them with clients, expediting matters.
Integrates an End-to-end Solution
Cloud technology is not limited to handling the different aspects of an organization, such as accounting, human resources, and payroll, and it can also be integrated with other platforms.
Cloud-based solutions can serve as the focal point of a bigger, more comprehensive network of tools for managing various facets of a company.
They can provide pre-built, easy-to-implement connectors that enable businesses to finish their end-to-end process and customize an ecosystem to a particular firm.
These customizations and integrations offer convenience and efficiency for SMEs and other businesses, making transactions smooth and operations efficient, ultimately leading to their growth.
Incorporating Innovation in the Corporate World
There are many ways cloud accounting can improve both small and big companies, such as cutting costs and improving team collaboration. Today is a time to include technology in our practices to make room for developments. SMEs should embrace cloud accounting because it will pave the way for their expansion.
The emergence of the cloud has lightened the load for businesses by providing multiple solutions, from time-consuming tasks to security issues. It has also eased the expensive hardware, storage costs, and office supplies fees.
Cloud accounting provides businesses with better data control and accuracy, helping with financial assessment and other relevant operations. With this technological advancement, SMEs can go much farther than before.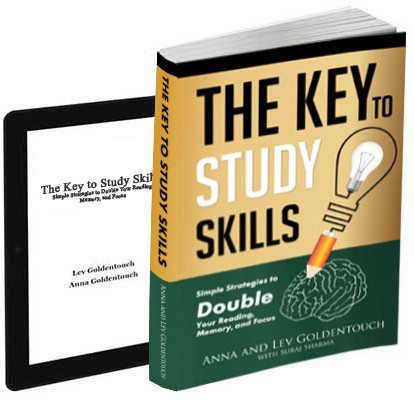 Get 4 Free Sample Chapters of the Key To Study Book
Get access to advanced training, and a selection of free apps to train your reading speed and visual memory